"Every girl deserves to decide what will adorn her body, where her path will lead, and with whom she will share her affections." That is the very essence of Conscious Couture Luxury Resale Events, and their mission to leverage fashion to fight human trafficking. Conscious Couture creates an inspiring luxury shopping experience catered to women who love to shop deeply discounted Gucci, Prada, and Louis Vuitton (and YSL, Alexander McQueen, Christian Louboutin… you get the point), New York Fashion Week designer sample sales, and the personal closets of local style icons. To support the fight for the freedom of our sisters across the globe, Conscious Couture gives a portion of their event proceeds to support anti-trafficking charities like Elijah Rising, Chain Reaction, and Real Beauty Real Women. Founder and CEO, Erica Molett, is committed to the fight. Her passion seeps out of her heart, words, and actions. We had the pleasure of sitting down with Erica and discussing Conscious Couture's humble beginnings, why she chose to fight human trafficking, and where she sees it going from here.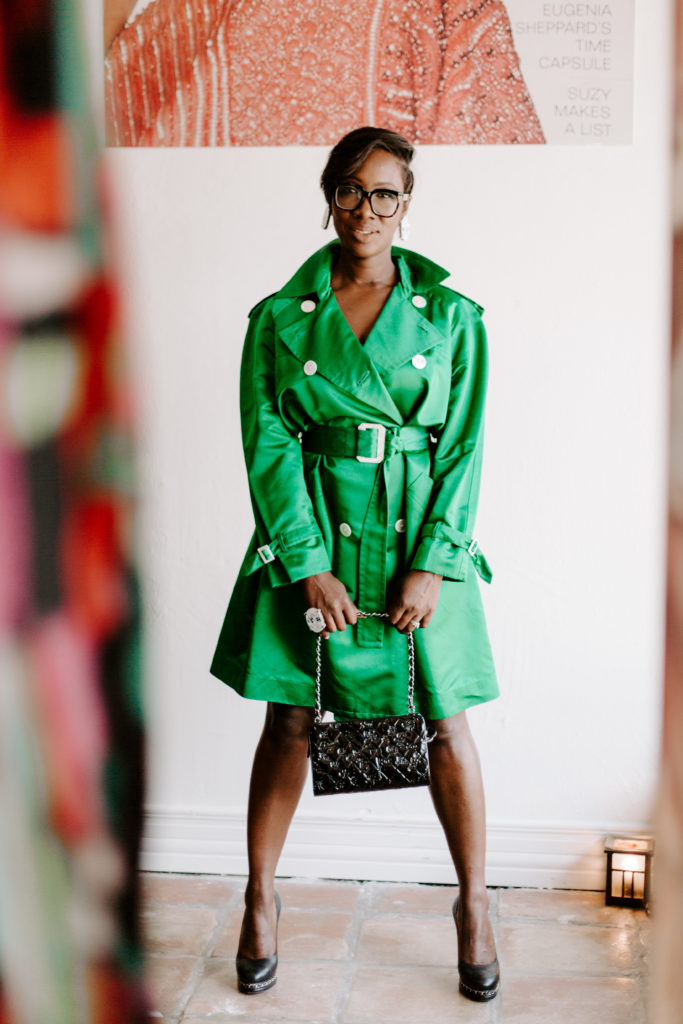 How was Conscious Couture born?
Answer: Conscious Couture was born out of a yard sale event. In 2010, my husband and I were dealing with a lot of financial recoveries during the recession. We decided to compete in a televised financial boot camp. There were four families competing, and the family that met their goal by the highest percentage won ten thousand dollars. We were doing well in the competition and we were really learning how to manage our finances as a married couple, but we weren't winning. So I thought, what can I do to add a little more money? I decided to do a yard sale, but I didn't have enough items to sell. In 2013, I thought 'what if someone lets me use a parking lot and rent out parking spaces to other families and businesses, and they can sell items there? Then I can make money off the parking space rental.' So, I was able to find a parking lot, I put some fliers together, and in 3 weeks I had 30 families, schools, and businesses that came out and sold their stuff." Many of the shoppers began asking Erica when she planned on having the next event, but she had never thought about it. Before she knew it, she was hosting them semiannually.
By our third event, I had some women say they lived in a gated community so they couldn't have a yard sale, but they had really nice items that they wanted to sell, like Gucci and Prada. They challenged me to create an elevated (and indoor) shopping experience with the right customer audience. So, in 2015, my girlfriend and I sat down in my bathroom in Dallas, and she helped me come up with the name Conscious Couture. I had a young lady named Laci who started helping me recruit vendors, and one of the vendors that said yes was a consignment boutique called Vintage Martini. We didn't know each other, but he was incredibly accomplished in the fashion industry and well known in the fashion and philanthropy community in Dallas and nationally. We met in his inventory room and he committed to supporting our first event as a vendor and Host Committee member. Ken began spreading the word in his circles and recruited designers like Esé Azénabor and Allison Mitchell, Real Housewives of Dallas star Leeanne Locken, and celebrity stylist Jeanette Chivvis. Because of them, my vision of what Conscious Couture could be really expanded beyond just an indoor yard sale to include luxury consignment and New York Fashion Week designers!

When and how did Conscious Couture make its way to Houston?
Answer: Conscious Couture moved to Houston when Erica attended a real estate conference for her day job in economic development. "There was a woman by the name of Ann Taylor who is the Senior Vice President with Midway Companies, giving a panel at the conference. It was nothing but God because I was supposed to go to another session. We were running late, so we went to that panel. I was very inspired by her passion for blending real estate development, lifestyle and entertainment, and community, that I had to meet her! From movie nights for toddlers to wedding proposals and concerts, CITYCENTRE was more than a shopping center. Afterward I waited in line to meet Ann and proclaimed (with no money or a plan) that I was bringing Conscious Couture to Houston in 2017. To my surprise, she said, "That's great! You can use one of our properties. Just call my team!" I never saw Ann again, after that day, but the Midway team has rolled out the red carpet in a very grand way and they continue to do so. We've become like a family and that's why we've been so committed to Midway Companies in our efforts in Houston.
Why did you decide to focus on the fight for ending human trafficking?
Answer: Being the CEO of Conscious Couture, yet not a natural fashionista, I had to make sure that the company had more impact and significance than just fashion transactions. With the yard sale, we'd give our unsold items to charity thrift stores. Continuing that tradition, Conscious Couture would also have a philanthropic component. I learned that one of our vendors, Bracha Designs, gave a portion of their jewelry sales to their focus on supporting the fight against human trafficking. And the more research I did, the more I became convinced that God wanted me to do the same. So, we made that a part of our mission, and every year we give a portion of our proceeds to a charity that focuses on the fight against human trafficking.
What about human trafficking has impacted you the most? How did that fuel your fight?
Answer: I was raised by an amazing mother and father that always told my sister and me that we could be and do anything we put our minds to. We really have always lived our lives with that belief, with no mental limits. They taught us to be women with integrity, self-confidence, and compassion for others. My parents also taught us to maintain high standards for the way we treated others and the way others treated us… regardless of race, age or class. I've always approached women empowerment and sisterhood with a very healthy perspective because I've always been surrounded by other women that have supported one another. It breaks my heart to know that there are other women that are victimized and commercialized simply because of their femininity. They are sold for sex and are never able to reach their full potential unless we save them. There are so many young girls that may not come from strong homes where they have been taught the warning signs that lead to this type of victimization. There are young girls who have found themselves in a lifestyle that left them uncovered and unprotected because they didn't have a path for themselves or a community that always cradled and empowered them. It saddens me that there are little girls, who without us, are going to experience that. For me, even though I am a mother of boys, just seeing a woman who is raised to be the best version of herself matters to me. It matters to me to be able to protect young women and girls that are being victimized in that way. There are no limits on how we can change the world when we are free. Freedom shows up in so many ways, and the biggest way freedom shows up in my mind is in fashion. We as women can be as sexy on a Friday night as we want to, it's our right. We can be conservative on a Monday morning and be sexy on Saturday night… or we can flip that thing and be sexy on Monday and conservative on Saturday. When we are free, we are able to go to Walmart in flip flops, pajama pants, and a t-shirt, because we are not dressing to advertise ourselves. Our attire exudes who we feel like being at that moment. It's not a choice that someone else should make for us. Women are commercialized in sex trafficking, told what to wear and when to wear it. It's used to control and abuse them; to pleasure any man who wants to pay for that time. That's a problem. Thus, being able to blend something as beautiful as fashion and something as ugly as human trafficking is such a juxtaposition of light and dark, that I think many women can appreciate it. Women appreciate coming to an event where they can spend their hard-earned money on that special Tom Ford dress and Louboutin heels that they've always wanted (and deserve), at an incredible discount. They can know that they're also fighting to help their sisters around the world to have that same freedom.

What should a woman expect to experience at a Conscious Couture event?
Answer: She should expect to walk in and feel sensory overload almost immediately. The music will be pumping, she'll see women hugging and dancing with one another. She will hear inspiring panels about fashion, business, or philanthropy. She'll have all the Gucci, Prada, Chanel and new designers at her fingertips that she can handle in a day. She'll be shoulder to shoulder with some amazing women she may follow on Instagram or TV that are there selling their products or personal closets. She'll be able to play in some of the closets of Texas' biggest fashion icons selling their closets in an effort to help fight human trafficking. She'll enjoy some great cocktails, and leave having met other women that were there for the same reason: to elevate one another, leave with amazing merchandise, and fight human trafficking.
Where do you see Conscious Couture going in the next 5 or 10 years?
Answer: Our vision is to add more cities, launch our new e-commerce site, and increase our impact on the fight against human trafficking through more donations, more advocacy, and more programming.
Erica and SHE Magazine USA's very own CEO and Editor-in-Chief, Beena Yusuf, met two years ago Conscious Couture's first Houston event and have been inseparable since. Last year, Beena was a host and will be back this year as a Style Boss and Sponsor. Conscious Couture will return to Houston on Saturday, October 19th, 2019. The luxury consignment event will be open from 9 am-5 pm at 822 Town & Country Blvd, Houston, TX 77024.
---
For tickets, visit: https://consciouscouture.ticketleap.com/conscious-couture-luxury-resale-events/
---
Sylvina Bravo
Director of Lifestyle and Fashion Editor
SHE Magazine USA