If there is one thing we can take away from immigrant and chef, Hugo Ortega, it's that endurance and passion bring the American Dream to Life.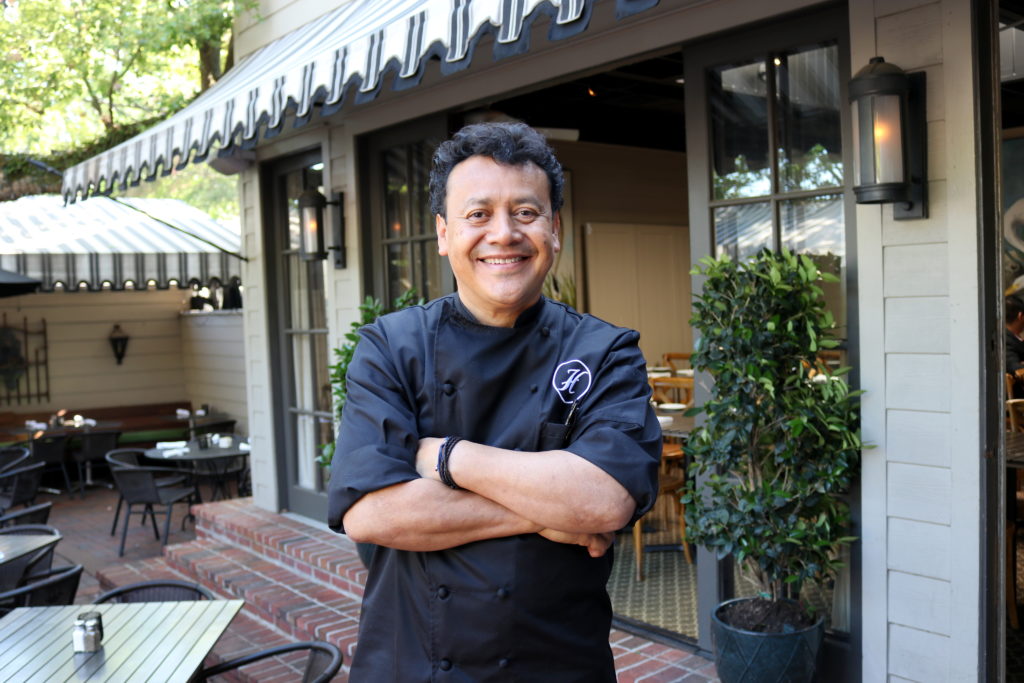 There are two types of people: the ones that are born here in America, and the ones that want to come here. At least, that's what Hugo Ortega, one of Houston's best-loved chefs, believes. At the entrance of Hugo's, one is welcomed with the sincere smiles of the staff, the sturdy furnishings that seem to recall the ranch styles of old, and the smells of Oaxacan food that enchant all the senses to a higher degree. The winner of the Best Chef: Southwest award at the prestigious James Beard Foundation Awards in 2017, Hugo was about 18 when he came to the US in search for a better life. "When you're that young, you don't think much about what can possibly happen, or if something will go wrong. Which, many things went wrong." By wrong, he's talking about all the struggles he faced. His words were easy to imagine. He spoke quietly, yet energetically—especially when recalling his arduous journey to the U.S. from Mexico. "To be specific, I had made my mind. I had to make it. We heard about how dangerous [the journey] can be, but it was a decision, it was time to look for a better life."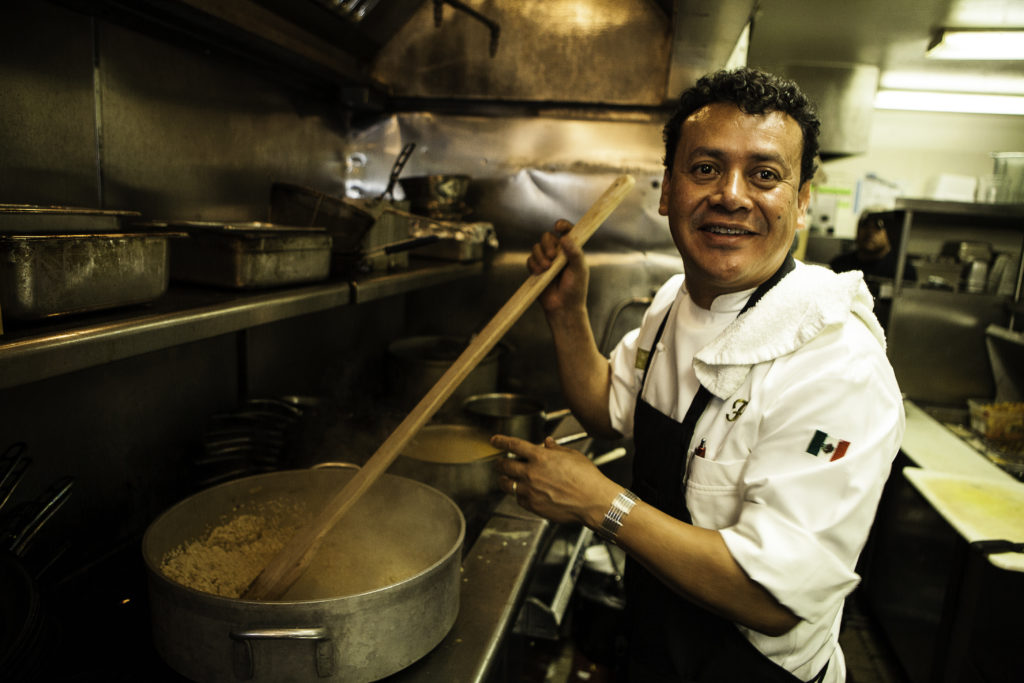 He journeyed alone before arriving to San Antonio. "I believe it was Spring at the time. Someone collected us, we went to their house, and in 2 days we made it to Houston. I made it from San Antonio to Houston in a green Chevy Impala. I believe it was an Impala, a '75 or something. There were 14 of us, and they laid us down the way you would lay zucchinis or corn. One on top of the other." Chef Hugo was the first in his family to travel. That was how his life began here. He recalled his story as if it were stored away within the depths of his memory but smiled at the details as they emerged in words. "The first word I learned how to say here was 'yes.' The police might say 'you're going to have a ticket because you parked illegally, I'd say 'yes, no problem.' It's one of those things."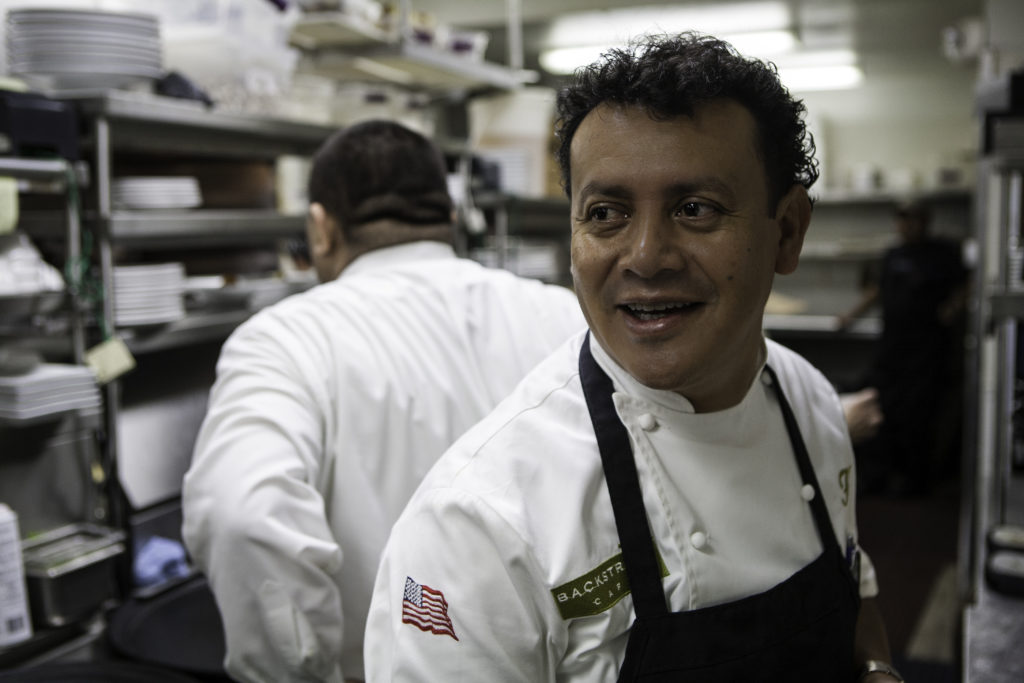 Aside from missing his family, food, and traditions, he struggled, but he endured. "I was young. I am the oldest of 8 siblings, so I always worked hard, but my mom, poor thing, would have to make breakfast, then lunch, then dinner for 10 people. And then the next day, otra vez. Today, I ask my mom, and it's 'foggy' for her to figure out how she did it. When you're young, you don't think much about what you don't have, or what you'll be able to eat at that moment. You don't plan it. You don't worry about what's going to happen tomorrow. And of course, she was always worried about what she's going to cook tomorrow, where the money is going to come from tomorrow, and those kinds of logistics." The constant worries of his mother became the frame for his endurance as he progressed in the restaurant world for years to come. This, however, was not the only thing that moved him forward toward his accredited accomplishments. He gives credit to both his mother and grandmother, whom he speaks highly of. If he came with anything to the US, it's with his family's memories, recipes, and traditions. The mole served at Hugo's is his grandmothers' recipe. The corn, herbs, cocoa beans, and black beans he uses at his restaurants are brought from Oaxaca. "That's my inspiration. That's the secret. If you want to make authentic Oaxacan food, you must bring the ingredients from there. That's what the cuisine is."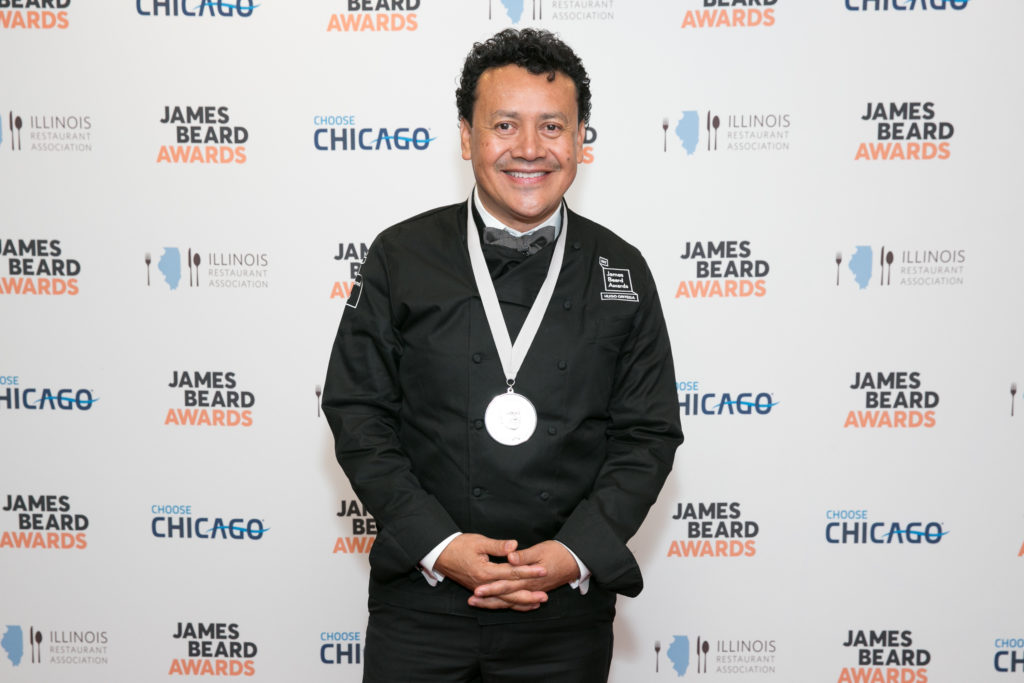 Chef Hugo began his career in the restaurant industry as a dishwasher and busboy at Backstreet Cafe before graduating from culinary school and later becoming its executive chef and owner, along with wife, Tracy Vaught. His American Dream continued when they opened Hugo's in 2002, featuring regional Mexican cuisine; Caracol, a Mexican coastal kitchen, in 2013; and Xochi, celebrating the flavors of Oaxaca, in early 2017. Ortega has published two cookbooks: Hugo Ortega's Street Food of Mexico (2012) and Backstreet Kitchen: Seasonal Recipes from Our Neighborhood Cafe (2013). He was a James Beard Award finalist for six consecutive years, 2012-2017, before becoming the first Mexican-born chef to win the award. He was also bestowed the 2017 Craig Claiborne Lifetime Achievement Award from Southern Foodways Alliance; was named "Up-and-Coming Chef of the Year" in 1999 and Chef of the Year in 2002 and 2012 at the Houston Culinary Awards; among other accolades. His restaurants have been named "Top Table" by Bon Appetit, one of Houston's Four Top Latin Restaurants by Forbes Travel Guide, included in "What Makes Houston's the Next Great American City?" in Smithsonian Magazine, among others. Xochi was named the Best New Restaurants in America for 2018 by GQ magazine.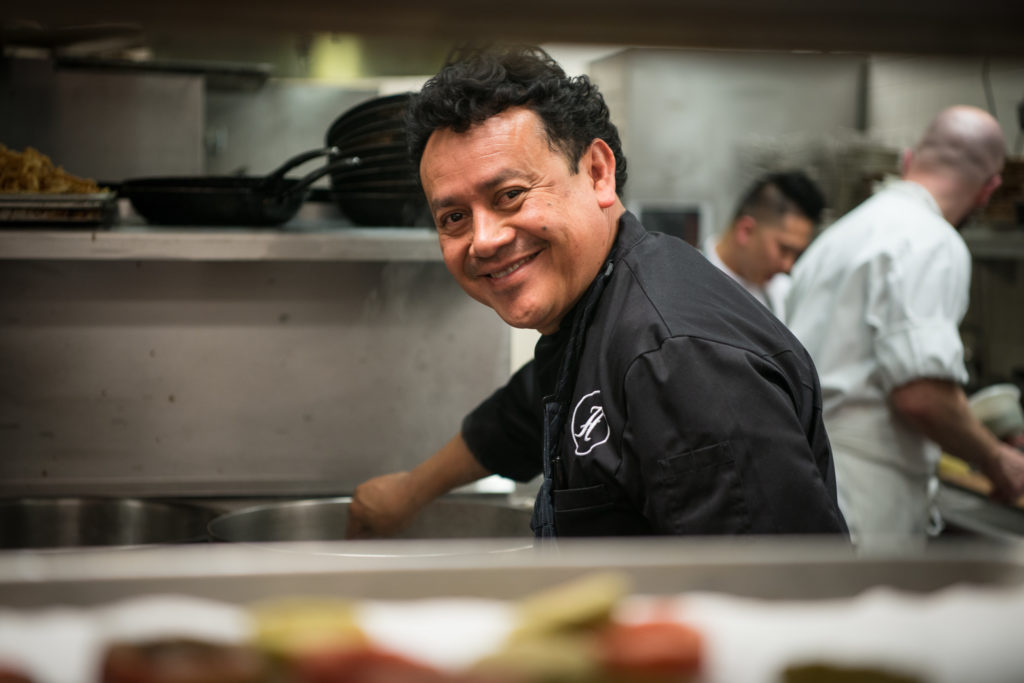 Chef Hugo, in all his success, has a presence that only a few know how to carry. Immediately, he makes you feel welcome and comfortable, but most importantly, he is relatable. When asked how to reach his level of success, his recipe was simple. "Go to school. It's a miracle to be able to sit here, talking to you. I wouldn't have been able to accomplish this by myself. My beautiful wife Tracy, and the beautiful people in my life believe in what we do. They come, day in and day out and give their very best. That's the recipe. I always feel like I'm one of them. I was a dishwasher for many years. I look at one of my dishwashers, Pedro, and he has a lot of dishes he needs to wash, and he never stops. I relate to what he's going through. Today, our city is striving, and we need to be prepared to be what we want to be. And don't do it too much a la Mexicana, the way we say it. Un empujon y vamos. Today you must prepare yourself, it helps a lot. I went to Houston Community College. With a little education, it helped a lot."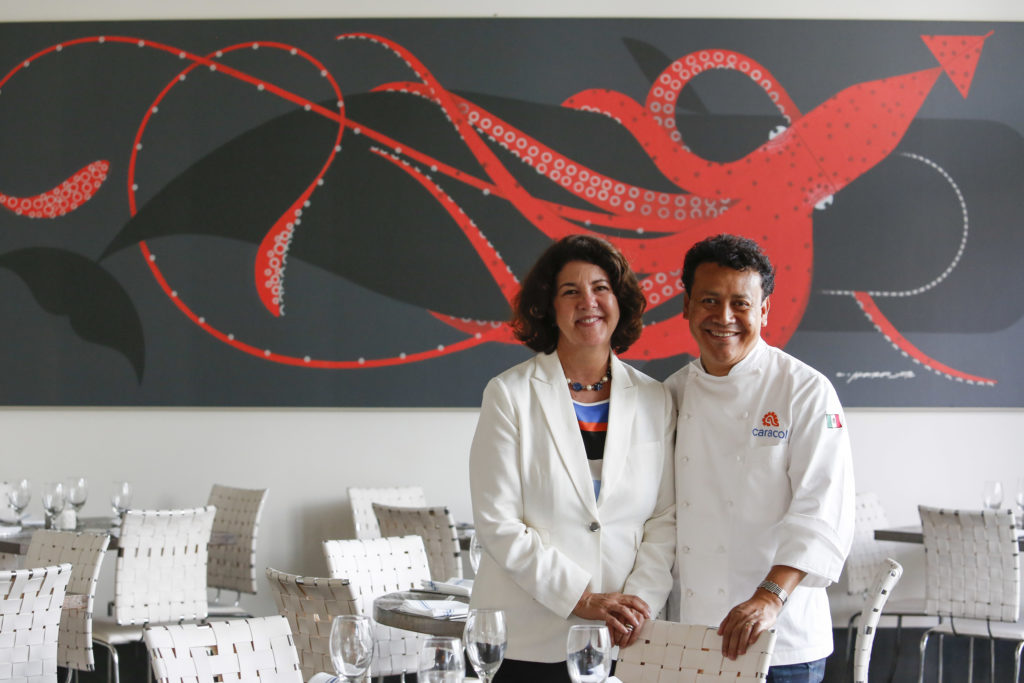 Chef Hugo is the epitome of the American dream. Coming to this country as a refugee seeking asylum, he turned his life around without losing his sense of self. He has a recipe for that too. "I always say, if you put a musician, a cook, and someone willing to serve, you create culture. With those 3 things. That is the satisfaction of our incredible culture. We're always surrounded by good food, good people, great traditions, wonderful music. That is culture. America is so young, and they need a lot of that. I have some friends, and I have had to opportunity to travel and get to know different parts of the world. And they say the same thing, what a generous and wonderful country the US is. Many people that are born here don't have the closest idea of what it's like to be born in Mexico or another country in the world. It's very tough. I'm telling you; everyone wants to come here. It's something remarkable, how beautiful America is." Of course, one must realize that in order to make culture great even in our great country, one must remember their roots and the simple fact that we all have the choice to keep it alive while enduring its changes. Culture that has been proven and tested with time, can have an enormous and positive impact that transcends generations and situations which in turn brings people together. Hugo has seen this first hand through his many journeys with food and through changing societal climates within our country.

"An attribute that this great country has is, that if we don't like something, we can change that. That's the beauty of this country. Of course, we must endure. In history, the people that endured are the people that served something. The Judios endured the holocaust. The great depression, all the wars we've had, the people have endured and had the tenacity to regroup. To always come together when we need it the most. We will come together one more time to the table. The easiest thing to do is disagree, and you can, there is no problem with that. Anyone can get upset, but that is part of the solution. You may think, yes I'm upset, but I want to do something about it.' When you take action, action brings happiness. If you don't take action, then it doesn't work. It's a type of ignorance to be a country with so many ethnic cultures and say this is not working. That's crazy. But we will make it."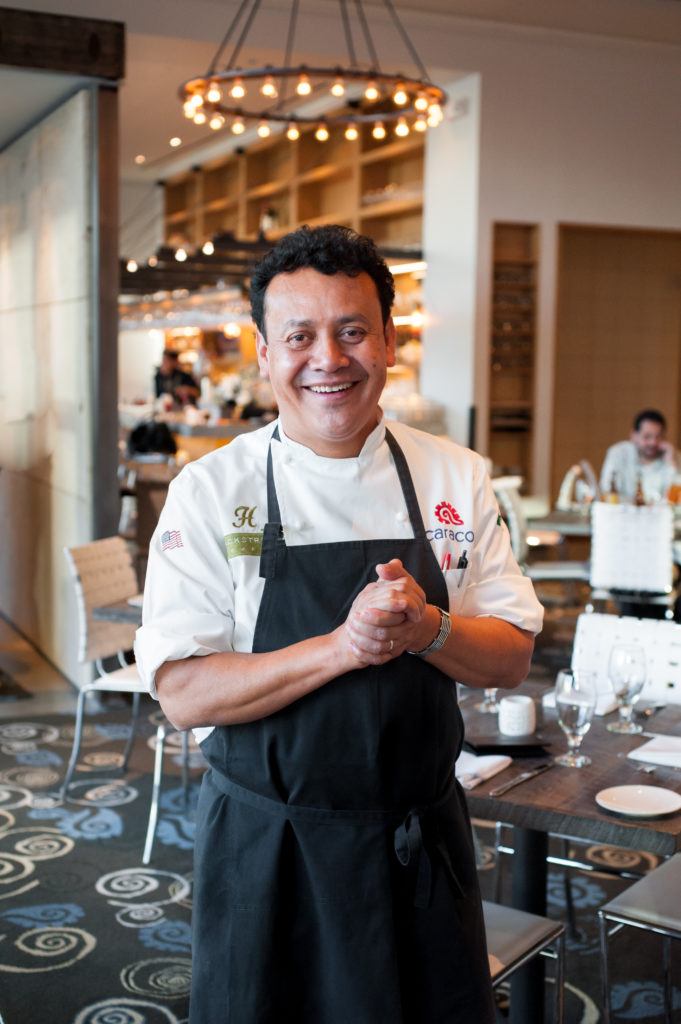 "Young people, especially, are the most sensitive to what's happening. The elderly, we have other things that we have to concentrate on, but young people have the ability to be outspoken and to demand what it needs to be. My daughter Sophia, who is 22 years old, helps to guide me to do the right thing. She knows what she's talking about." His spoken words are reflected through his hand movements and his gaze to the things around him. This advice comes from experience through trial. Every belief that he has is reflected in his mannerisms and his speech. It is quite infectious.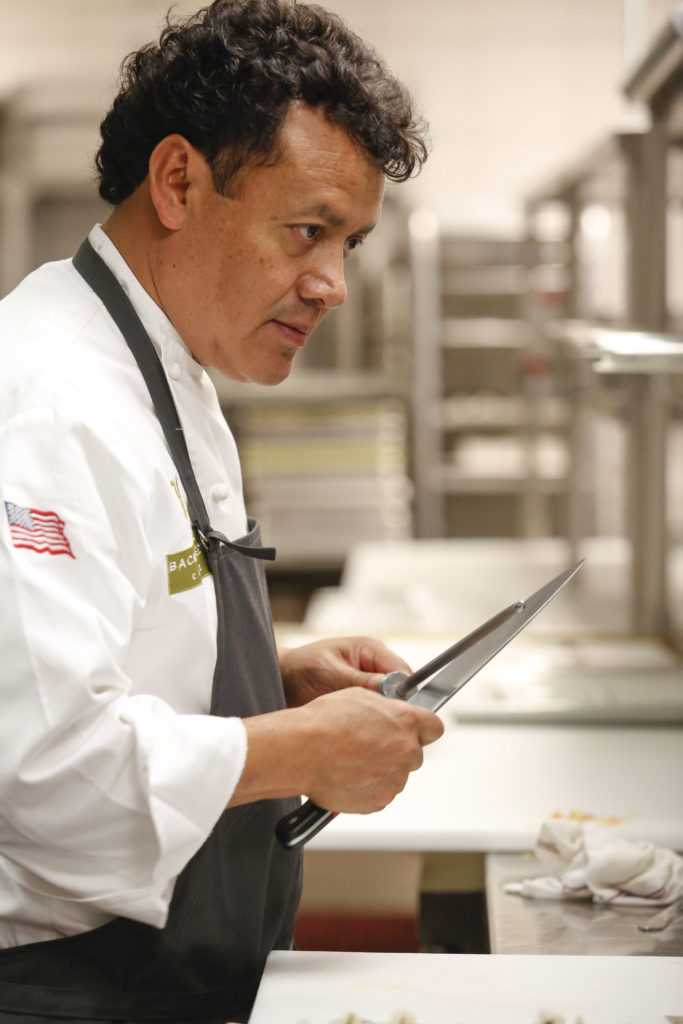 As all good things must, the end of the day at Hugo's comes to an end. What sets Hugo apart is that there is a sense of story behind every dish, every cut of every vegetable, and every seasoning to every sauce. This story is one that is remembered even when the lights are turned off for the night, yet not forgotten. What is hoped for in this story is like that of the American Dream—the hope that when tomorrow morning comes, the lights will be turned on, the stoves and ovens will be fired up, the staff will have their sincere and infectious smiles, and that good Oaxacan food will be cooked again to retell the story that built Hugo Ortega's dream. Hugo reminds us of a simple detail when he speaks and when he cooks– in Mexican cuisine, an explosion of flavors is the result of simple ingredients built from many stories. That, is Hugo Ortega.
Ceviche de Chile Canario
Serves 4
CHILE CANARIO SAUCE
Yield 2 cups
3 yellow canario pepper (can be substituted with yellow Manzano peppers)
4 yellow bell peppers
1 large yellow heirloom tomato
2 Tbsp. green olives, sliced
2 mint leaves
1/2 cup Meyer lemon juice
1/4 cup olive oil
Sea salt as needed
Prepare an ice-bath, large enough to fit the peppers. With a sharp paring knife, cut around the stem and pull to remove the seeds. Place peppers over an open flame, gas burner or under the broiler and turn flame on high. Char peppers turning them frequently, until skins are blistered and charred, about 4-5 minutes. Place peppers in the ice bath as you remove them from the heat to stop the cooking process and peppers are don't overcook. Remove peppers from ice bath and peel off the burnt skin. Wear protective gloves so hands do not get irritated. Run peppers under cool running water to rinse away any burnt pieces.
Place peppers, tomato, green olives, mint and lemon juice in a blender and blend until smooth; season to taste. With the blender on medium speed, add the oil in the form of thread so that the sauce emulsifies well. Transfer to a container and keep refrigerated until needed.
FOR THE CEVICHE
3 cups red snapper filet, cubed
1-1/2 cups freshly squeezed lemon juice
1 tsp sea salt
2 cup salsa de chile canario
3/4 cup cherry tomatoes, cut in halves
3/4 cup cucumber, seeds removed and medium dice
1/4 cup pearl onions, halved and layers peeled apart
1/4 cup cilantro leaves
2 radishes, thin sliced
1/2 tsp. olive oil
Sea salt as needed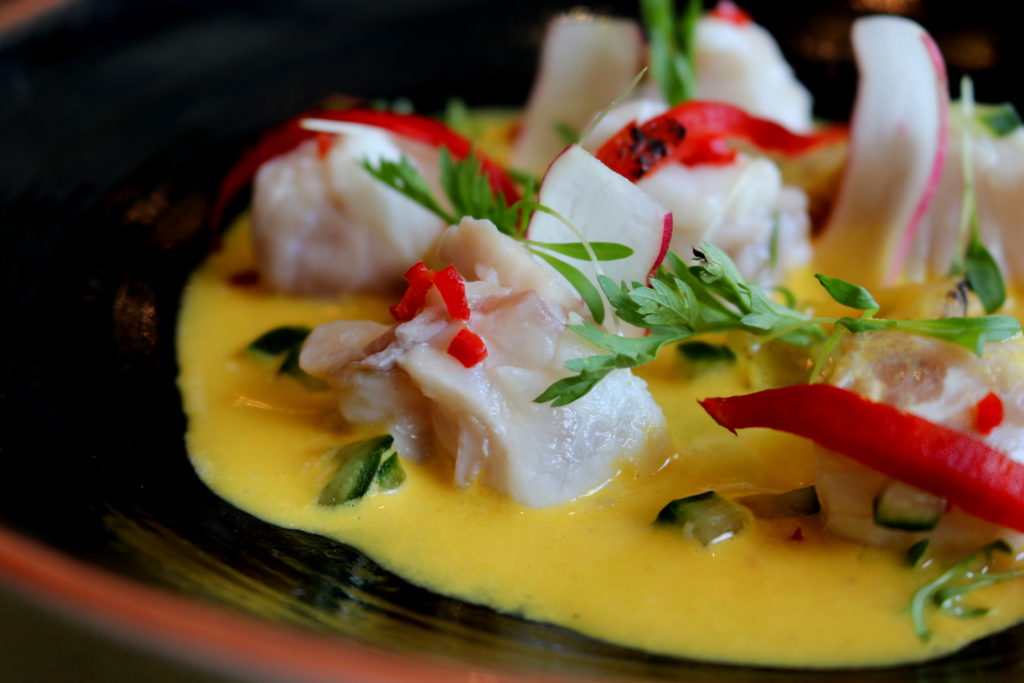 Place fish in a bowl and cover with lime juice let sit for 10 minutes. Remove excess lime juice from fish, adjust seasoning as needed and mix well. Pour salsa de chile canario onto a platter. Place fish on top of salsa, add cherry tomatoes, cucumber, onion, cilantro leaves, and radishes. Drizzle with olive oil.
Traditionally ceviche is accompanied with fried corn chips.
Recipe and Photographs courtesy of Chef Hugo.
Sylvina Bravo
Fashion/Lifestyle Editor
SHE MAGAZINE USA